"A chair for living the outdoors inspired by Cabo de Gata"
Cuando empecé a trabajar en este proyecto pensé en diseñar una colección de asientos para la calle... Recordé esas noches de verano al fresco y la idea de las sillas de caña en las puertas de las casas en los pueblos me vino a la cabeza. Partiendo de ahí, encontré inspiración en los pequeños pueblecitos del Cabo de Gata, en Almería, de donde soy.
Inspirado en las formas redondeadas y la construcción de las sillas de caña, el diseño de la colección DoñaPakyta busca crear un producto actual que pueda recordar estas sillas que todos hemos visto en alguna ocasión y que siempre transmiten calma y buenos recuerdos.
El nombre DoñaPakyta hace referencia a como se conocía a la señora que luchó por la preservación del parque natural de Cabo de Gata cuando iba a ser destruido por la construcción. Gracias a su trabajo, hoy todos podemos disfrutar de ese entorno natural. Este es mi pequeño homenaje.
When I started working on this project for the Spanish firm Alutec I was asked to design a chair for outdoors. Then, I thought about those summer nights in south Spain and the idea of cane chairs placed by the doors of the houses in the villages came to my mind. From that point, I found inspiration on the small villages around Cabo de Gata, in Almería, where I'm from.
The rounded shapes and the construction of these pieces are inspired by old cane chairs. The result is a collection that transmits the feeling of classic old chairs from a new perspective.
The name DoñaPakyta (Ms Pakyta in English) comes from the name of the woman who fought to preserve the natural park of Cabo de Gata when it was about to be destroyed to build buildings. Thanks to her work, we can all enjoy this nature environment nowadays. This is my little tribute.
Design: Carlos Jiménez
Client: Alutec
Year: 2019

Photography: Carlos Jiménez
Work: Furniture design / Diseño de mobiliario
Shapes and construction are taken from old cane chairs and they are addapted to Aluminum and new production methods. The result is a piece that reminds the classic chairs but it adds new features.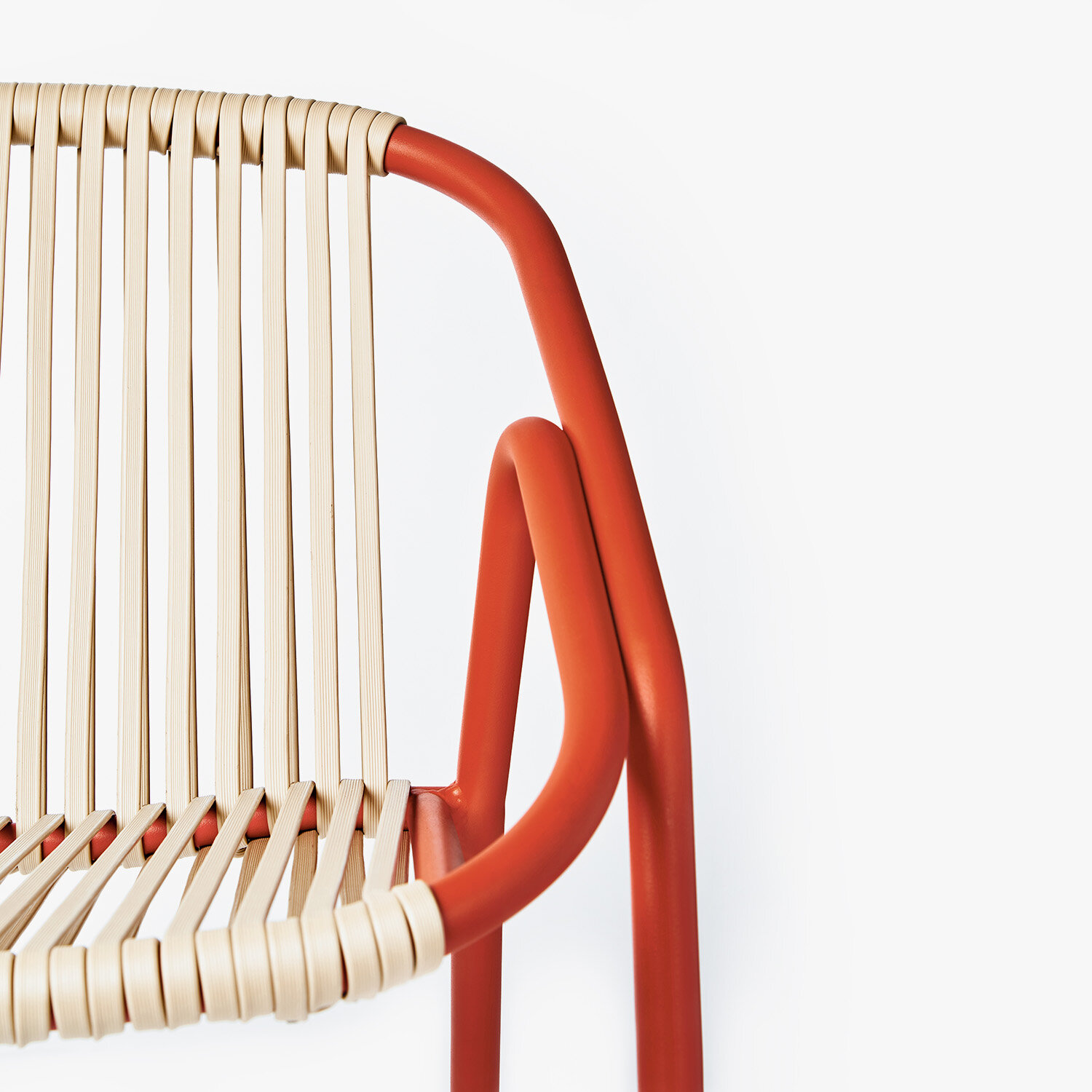 Las formas y las soluciones constructivas de las antiguas sillas de caña se han adaptado al uso de aluminio y nuevas técnicas de fabricación. El resultado son piezas con carácter clásico que presentan nuevas características como la apilabilidad.