Enströms Möbler es una empresa fundada en 1902. Ubicada en Tibro, Suecia, desde su fundación han dedicado su actividad a la industria del mueble. Durante estos más de 100 años han ido variando su actividad según las necesidades del mercado. En 2015 deciden crear una nueva marca para recuperar parte de esa tradición que poco a poco se había ideo perdiendo.
Este proyecto de branding consiste en la creación de dicha marca. La nueva marca By.Enströms representa esa pasión por la carpintería, la artesanía, la tradición y el diseño.
Durante todo el proceso se estudió la historia de la empresa desde su fundación. Se estudió la zona donde se ubica y la tradición sueca relacionada con la industria del mueble.
Enströms Möbler is a company founded in 1902. Based in Tibro, Sweden, they have always been related to the furniture industry. During all these years they have been changing their activity according to the market's needs. In 2015 they decided to create a new brand that could recover all that tradition that was slowly being lost.
This project consists on the design and development of that brand. The new brand By.Enströms represents that passion about joinery, crafts, tradition and design.
During the process the history of the company was deeply studied. A research about the area where they are based and about the Swedish furniture tradition was also made.
Design: Carlos Jiménez
Client: By.Enströms
Year: 2015

Photography: Carlos Jiménez
Work: Branding, naming / Diseño de marca, identidad y nombre

"BY."
"By" is a preposition that is normally identifying the agent performing an action. It also normally indicates how something happens.
We wanted to transmit how the pieces are made and how everything happens in the company: the materials, the hands behind the products, the designers...
---
"By" es una preposición que normalmente identifica el agente que realiza una acción. También suele indicar como algo sucede.
Se buscaba trasmitir la idea de como las piezas se hacen y como ocurre todo en la fábrica: los materiales, las manos tras los productos, los diseñadores...

Inspired by values such as "tradition", "old" and "quality" and by elements such as the geographical area and the traditional red buildings in Sweden, the brand was getting form until the final result.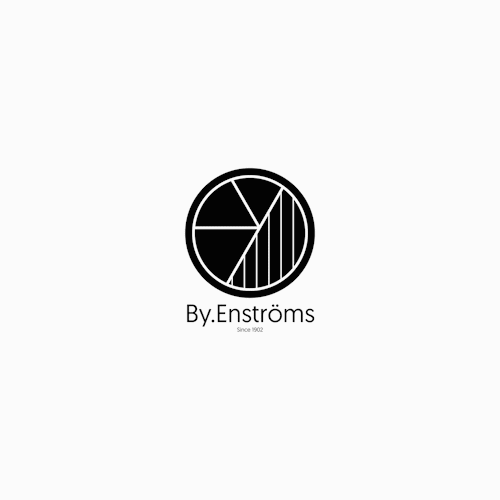 Inspirado por valores de marca como "tradición", "antigüedad" o "calidad" y por elementos como la localización geográfica o los tradicionales edificios rojos de Suecia, la marca fue tomando forma hasta que se llegó al resultado final.
Once the brand was designed, some different applications of it were designed. These applications were envelopes, postcards, catalogues, visit cards, labels, posters...
Una vez se diseñó la marca, se desarrollaron diversas aplicaciones de la misma, como por ejemplo, sobres, documentos, postales, tarjetas de visita, etiquetas, pósters...
Una vez la marca y sus distintas aplicaciones estaban desarrolladas, era momento de crear una página web que trasmitiese los valores y el estilo de la marca. En esta web se presentará la marca y los distintos productos y colecciones que se vayan publicando, como por ejemplo
Kaaja Collection
.
---
Once the brand and the different applications of it were developed, it was time to create a website that should trasmit those values and the stile of the new brand. This site presents the brand and the different products and collections that will be launched, for example,
Kaaja Collection
.